The Easytow advantage for fish & sports boat trailers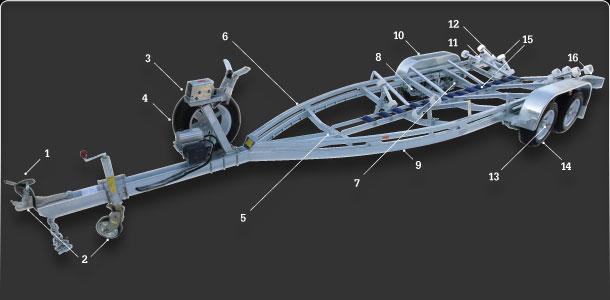 Waterproof quick exchange connectors with tinned wire, no more re‑wiring plugs.
Quality jockey wheel and couplings.
Fulton or Alko winches, depending on model selection.
Practical high spare wheel mount location.
High quality Australian milled R.H.S and S.H.S steel. Structurally superior, and an ideal composition for galvanizing compared to imported steel.
Double braced frame standard on 6.5m/3400kgs and above, single RHS up to 6.5/2800kgs.
Custom axles with caliper mounts welded on prior to galvanizing.
Galvanised disks are specially prepared prior to assembly to minimise uneven pad wear.
Unique, attractive 'Easytow' side bend.
14 & 15" tandem trailers have galvanised guards standard. White moulded guards standard on 13" wheels.
Australian made polyethylene.
Forgiving number plater mounts.
2 part marine seals, N.S.K. bearings, Valvoline Optimum Grease & Stainless Steel Bearing Buddies. (Bearing Buddies are an option on non‑braked trailers.)
Quality Dunlop or Goodyear tyres minimising vibration through the trailer. Alloy 15" rim option shown. 14" tandem trailers have alloy rims standard, single axle trailers have 13" white galv rims standard.
Australian made UV stabalised rollers. The softer polyurethane keel rollers also have galvanised shafts fitted to make launching and retrieving easier.
L.E.D. lights with practical steps.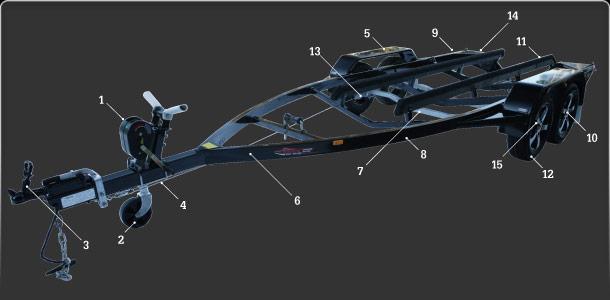 The Easytow advantage for ski & wake boat trailers
The Easytow advantage for ski & wake boat trailers